When you buy Naspers (OTCPK:NAPRF), you basically buy a discounted Tencent and get lots of great internet businesses for free. The Tencent stake alone is worth $117 billion at market prices, while Naspers trades at only $88 billion.
This huge gap exists because selling of shares in Tencent would depress its share price and create taxes. However, it's still of value.
The story is similar to Yahoo that had a 15% stake in Alibaba. After it sold of some assets and rebranded to Altaba, the net discount became only 27%.
Tencent is what we are after
We stumbled upon Naspers when we saw the big drop of Chinese tech stocks taking hold. Even though I like to position myself as a dividend growth investor, there are (hopefully) a lot of years in front of me, and I just need some growth stocks in my portfolio as well.
We wrote an article about 15 ways to play the growing multi billion artificial intelligence market earlier this year and three Chinese companies made the list: Baidu, Tencent and Alibaba.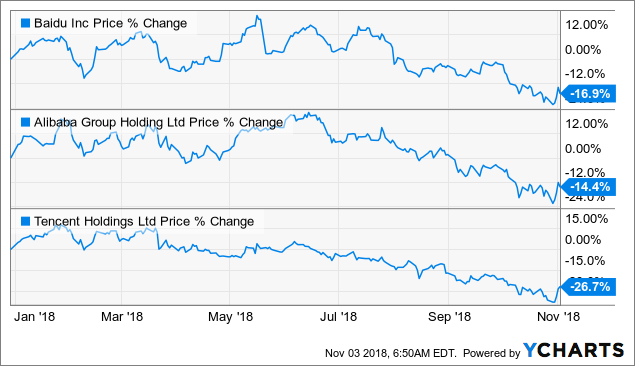 The three stocks have been under enormous pressure since the start of the year. Tencent (OTCPK:TCEHY) peaked at $51.92 on January first. It is now trading at $37.85, which means 27% lower.
Baidu (BIDU) is basically a 'Google-like play' with its search engine and AI developments. Baidu grew revenue 27% year-over-year.
Alibaba (BABA) is the Chinese e-commerce giant everyone knows, but it's also moving into cloud computing, so I would call this the 'Amazon-like play' of China. Alibaba grew revenue at a 54% clip this year.
So what is Tencent then?
In my opinion, Tencent = WhatsApp + Paypal + Activision Blizzard + Netflix + Youtube +. It actually provides all these services or products in a certain way. Even more so, it has ample investments in other companies. So you could add Softbank to the equation.
That's exactly why it's a behemoth tech stock (and worth over $350 billion).
Let's take a quick glance over the first half of Tencent to see how it's doing:
Revenue growth of 39%
Operating profit up 30%
Diluted earnings per share are up 25%
Capex up 135%
Free cash flow down 14%
Combined MAU (Monthly active users) Weixin and WeChat: up 9.9% to 1,057 million
Source: Tencent's interim results
This indicates to me that Tencent is still very much a growth business, even if it's this big already. The increase in CAPEX puts pressure on Free Cash Flow, but that's okay for now. The company has very stable revenues as a large chunk of it comes from subscription services, or services with a giant moat (such as WeChat Pay).
Let's break down Tencent's business into four main parts.
1. Social network, communications and payments
(Weixin/WeChat, QQ, Qzone, TenPay, WechatPay, QQ wallet)
Without trying to be hyperbolic here, WeChat has become a deeply engrained part of life in China. Order a cab? WeChat. Text a friend? WeChat. Split a bill? WeChat. The list goes on and on. Weixin/WeChat has just crossed the 1 billion monthly active users threshold.
WeChat is extremely sticky, with over 1/3 of users spending more than 4 hours a day on the app. The other messaging system QQ boasts 850 million monthly active users.
The beauty of this is, that WeChat has found a way of monetising its success early on. Not only are users from all walks of life 'hooked' to the app, it makes money on a multitude of things such as advertisements, payments, affiliate marketing, etc…
2. Entertainment and information (gaming, music, video, news)
Tencent is using its traditional online gaming segment to fuel growth across all other business units. Blockbuster games such as League of Legends (LoL) is what provided the cashflow for the company to develop it's now much bigger social networking and messaging segment.
Tencent Games is the biggest game company in the world. Over time, it has bought bits and pieces from well established game companies worldwide. Think about its stake in Ubisoft (UBI) , Activision Blizzard (AB) or Epic Games.
I am a big believer in the profitability of the gaming industry going forward, because growing up no longer equals giving up gaming. Nowadays, many adults game, and they have purchasing power.
The best example of Tencent's succes is its 40% stake in Epic Games, the maker of the by now legendary Fortnite game. Players have already spent more than $1 billion in less than a year. Tencent bought a $330 million stake for 40% of the company before the success of the game had arrived. Now, Epic Games just raised $1.25 billion from private equity giant KKR, valuing the company at $15 billion.
3. Online infrastructure + Platform & Artificial Intelligence
The company has some other projects running such as an email service, browser, surveying tool, etc…These side projects are small for now, but could turn big one day.
More interesting is the Platform part of the business, which is essentially combining a lot of technology using APIs and launches cloud services, much like its American peers.
The artificial intelligence lab focusses on new techniques such as Machine Learning to improve existing products and services, but could also spin out new products. Consider it the R&D department.
The final part of Tencent is what we call the investment part. We will devote a new heading to this.
Tencent is an investment company
According to Crunchbase, Tencent has done 328 investments. It's interesting that the company doesn't discriminate in size or sector, or even geography. It participates in seed, series A, series B, and even goes as far as buying big parts of public companies. For example, Tencent bought 5% of Tesla in 2017 and 10% in Snap. Adversely, one could call it a lack of focus.
Other major investments are a 15% stake in JD.com bought in 2014. Back then Tencent paid around $215 million in cash. JD.com is the second biggest e-commerce player in China This year, Google announced investing $550 million in cash in JD.com.
Following the e-commerce theme, Tencent also holds a stake in the Indian e-commerce giant Flipkart, when it invested alongside Microsoft and eBay in 2017. Later that year, Walmart put in $16 billion to buy 77% of the business.
We can go on and on about the investments Tencent has in its portfolio. The crux of the matter is that, many of these companies are not profitable yet. They are typically high-growth companies either in the online business segment or innovative future solutions such as electric vehicles.
For many of these companies, the value is unknown. It will take new investments rounds or IPO's to be able to put a value on them, and attribute them to Tencent. For all we know, there are many hidden gems awaiting.
Buy Naspers for Tencent, get the rest for free
Naspers is the biggest African company, ever. Valued at $83 billion, it is structured in a similar way to Tencent. What was once a media conglomerate, is now an almost VC-like holding company.
How much is Tencent worth anyway?
Tencent is trading at $376 billion, based on the H1 results of 2018, around a 30x earnings multiple. For a growth stock of this magnitude, we don't think that's overvalued at all.
Naspers made arguably the best VC investment ever. In 2001 it purchased 1/3 of Tencent for only $32 million. Today, after selling a 2% stake for $10 billion, it still holds 31.2% of Tencent. This is worth $117 billion at current market prices. Naspers also announced it would not sell any Tencent stock for the next 3 years.
Looking at this alone, there's an immediate gap of $34 billion versus the stock price of Naspers. The company's share price should rise 40% just to make up the difference.
While historically there has always been a discount, we believe this one is too steep.
The other stuff is not worthless
The investment case becomes even more bizarre when you look at the other holdings Naspers has. There are some real beauties in Naspers portfolio you simply get for free.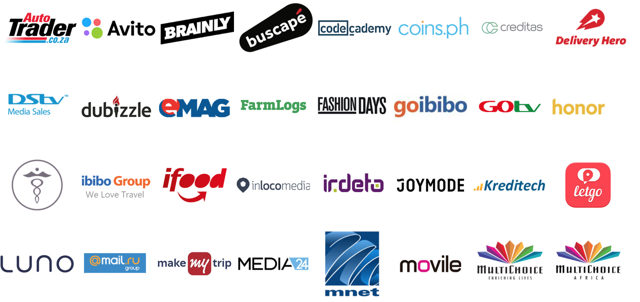 Source: Naspers' website



Source: Naspers' website
In particular, Naspers focusses on E-commerce, Food delivery, Online Education and Fintech (Payments). The numbers seem to prove us right, as well. In the 2018 full year results, revenue was up 39%, core headline earnings increased by 67%.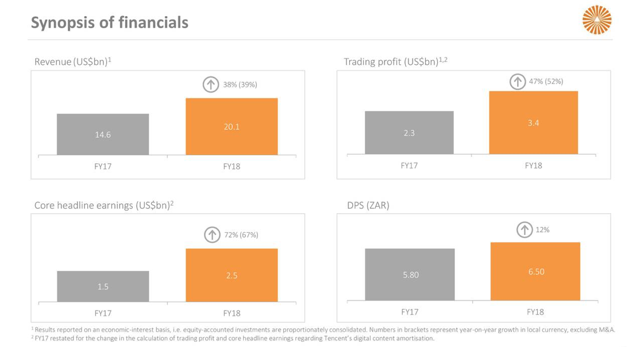 Source: Naspers FY 2018 Slides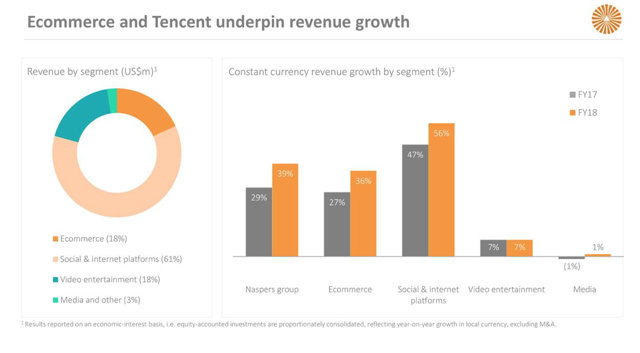 Source: Naspers FY 2018 Slides
Revenue is mainly driven by Tencent and E-Commerce. The old media business is adding no growth (1%), video entertainment isn't strong either (7%), but the social and internet platform grew 56% in constant revenue. This segment also makes up 61% of the total revenues.
Over the years, Naspers has grown a very strong cash flow capacity. The company gets $1.1 billion in free cash flow every year, about 1/4th comes from the Tencent dividend. For a company that's heavily investing in loss-making high-growth companies, this is quite impressive. The company boasts a 23% IRR on its internet assets without counting Tencent.
Additionally, the company had $8 billion in cash ready to deploy in March 2018. The sale of its 11.1% stake in Flipkart to Walmart raised another $2.2 billion in cash proceeds. The company could use this cash to buy back shares, or deploy it to quickly scale its internet businesses.
Naspers will spin out and list its Video Entertainment business MultiChoice. The stock will start trading in the first half of 2019.
Investment thesis
We believe Naspers is drastically undervalued. It's trading at $83 billion with over $10 billion in cash. Additionally, it has a 31.2% stake in Tencent worth $117 billion. We also believe Tencent is undervalued. Similar American tech companies are trading at a lot higher multiples, while growth perspectives are lower: Google (45x earnings), Amazon (131x earnings), Netflix (111x earnings).
Meanwhile, its Chinese peers are trading around similar multiples: Alibaba trades around 43x earnings and Baidu around 17x earnings.
Be aware of the currency risks involved as Tencent trades in Hong Kong dollar and Naspers is a South-African company. There's a great article about it writing by a fellow SA author here.
We believe, once US-China trade issues die down, Tencent can return to its all time high of $60 (OTCPK:TCEHY) and be worth nearly $596 billion. The 31.2% stake of Naspers would be worth $185 billion. Even if the steep discount remains, this means Naspers would be worth $130 billion, which is an upside move of 56% from the current share price.
Let's say the discount gets smaller, because the other businesses become more profitable or Naspers buys its own shares – remember this is a completely irrational discount based on 'nothing', the stock would return 2.2x from the current price. And then we haven't even talked about the other investments in its portfolio.
With our only tech position (Red Hat) being bought by IBM last week, we will be looking for a new tech position to add. This will likely by Naspers.
Disclosure: I/we have no positions in any stocks mentioned, but may initiate a long position in NPSNY over the next 72 hours.
I wrote this article myself, and it expresses my own opinions. I am not receiving compensation for it (other than from Seeking Alpha). I have no business relationship with any company whose stock is mentioned in this article.
Editor's Note: This article discusses one or more securities that do not trade on a major U.S. exchange. Please be aware of the risks associated with these stocks.
Algolia Custom Site Search